Thank you Seattle, for a wonderful six months of teaching yoga to well over 1,000 students in exactly 136 classes. Because as you may already know, I'll be returning to my beloved Los Angeles (aka Home) where I first began teaching my fitness style of yoga in 2007 before it was even known as Tola Yoga.
And who says you can't have a blast walking around and exploring Seattle in the rain? Plus, you never really get those torrential downpours like Chicago does, so who needs protection? Seattleites with an umbrella, that's something you rarely see. I guess that's why people would always ask, "You're not from around here, right?" With my black leather jacket and biker boots and carrying a red umbrella, go figure. Or maybe it was just my California tan 🙂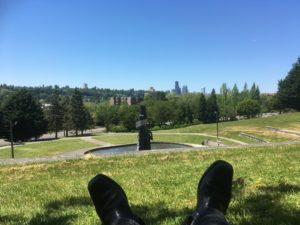 And what a great place to stay in shape and to keep moving forward, or I shall I say, upward…on the plethora of hills that traverse the Emerald City.
No doubt your butt works overtime in this town. I should know, I've walked more neighborhoods than Oprah has houses (well, maybe not) and loved every minute of it!
But what I'll miss most – other than my yoga students, especially Charisma, Jodi and Sallie who never missed a class – are the amazing views of downtown Seattle you get just by walking around or lounging in Martin Luther King Jr. Memorial Park, including my three favorites you see here.
So thanks Seattle, and until we meet again I wish you the very best. Continue growing and providing your good citizens with more great buildings, parks, restaurants, culture, grunge-free fashion and of course, a Tola Yoga studio in the near future.
Hey, ya neva know!
Peace – R