Tola Yoga is designed to give you the best yoga workout in the world.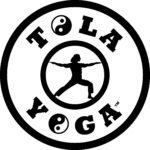 Created by yoga master Rich Tola after 10 years of teaching more than 25,000 students, Tola Yoga challenges you with creative sequences while incorporating these five equal elements: yoga stretches, core strengthening poses, foundation poses (warriors) , abdominals and standing balancing poses.
Here's Rich teaching his Chicago yoginis, The Namaste Five, from the Reality TV series pilot, YogaStyles of Rich and the Almost Famous:
For Private or Corporate classes, please email: info@richtola.com
Tola Yoga Testimonials:
"Thank you so much for filling our little Seattle yoga class with such wonderful joy & skills. You are AMAZING and I have learned a ton!" – Sallie B.
"When I walk into Rich's class feeling emotionally weak, without a doubt, every week, at the end of the hour, I feel stronger and more confident." – Adriana R.
"It's very well-structured, plus I get a great full-body workout every time I take Rich's class. He's the best!" – Vika L.
"Rich is a master at sequencing poses. My body always feels great for hours after class." – Lauren A.
"After 10 years, I took my practice to a new level when I started taking Tola Yoga classes." – Rhonda C.
"Tola Yoga is effective in strengthening and stretching every part of your body, plus it'll make you sweat!" – Ron W.
"Rich's classes are transformative."  – Jeremy S.
"Thank you for your classes and training this past year. I spent six weeks after knee surgery without putting any weight on my left leg, and because of your super long standing sequences, my right leg was strong enough to carry me throughout. For that I am grateful." – Ananya D.
"We'll be very sad to see you go… I get RAVE reviews about your class." – Manager, TRIBE Fitness in Seattle
Tola Yoga on YouTube.com/RichTolaYoga