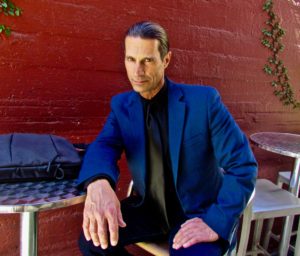 Director/Producer, Author and Creator of Tola Yoga, Rich Tola has written and produced more than 100 hours of original content across all media platforms.
Since becoming a yoga teacher in 2006, Rich has also taught more than 30,000 students in over 2,500 yoga classes throughout the United States. His passion for health & fitness has thrived for more than 40 years, while his wellness teaching certifications include Yoga, Personal Training and Cycling.
Upon completion of his yoga-inspired film, Boulevard Zen (2009), Rich founded The Boulevard Zen Foundation to teach the benefits of yoga to women and children survivors of domestic violence.
His reality TV series pilot, YogaStyles of Rich and the Almost Famous: Chicago is where yoga meets history throughout the streets of Chicago. It was also in Chicago where Rich created his fitness style of Tola Yoga, designed to give you the most effective yoga workout in the world.
A SAG-AFTRA member since 2009, Rich spent years training in New York City and Los Angeles with renown acting coaches Roberta Wallach, Penny Templeton, Carl Ford, Susan Batson, Greg Braun and Will Wallace.
His most notable yoga role on TV was the "hot-and-sweaty teacher" for Morgan Fairchild, Joan Van Ark and Andrea Parker on My Name is Earl.
Rich also enjoys hosting live musical events as well as performing stand-up comedy. Most of all, Rich loves to rock-it on the airwaves with his podcast, Tola Talks, aka his "21st Century Talk for a No Bullshit World".
From Investment Banker to Entertainer/Yogi, Rich has traveled the globe and seen it all.
From humble beginnings in Trenton, NJ, the son of an old-school Sicilian barber, he received his bachelor's degree from The University of Pennsylvania (Wharton) and his MBA from Northwestern University (Kellogg ).
In the 80's, Rich was an All-Ivy League baseball player who worked for Wall Street juggernauts Goldman Sachs and Drexel Burnham Lambert before living in Hong Kong, Singapore and Malaysia as an international bank consultant. In the 90's, he was a top-producing New York City real estate broker and high-flying internet entrepreneur and founder of The AskingPrice.com while securing The Trump Organization was his first strategic client. In the early 2000's, Rich was an award-winning real estate developer restoring Historic Landmark properties in inner-city neighborhoods.
On Valentine's Day 2006, Rich took my first acting class in New York City and never looked back.
His witty and heartfelt memoir, Simply Between Millions: From Wall Street to Hollywood, is "a wildly entertaining and inspirational book on life never getting you down – even when you're down!"
Rich lives in LA and is represented by The Atherton Group. 
All inquires:  info@richtola.com
---
YogaStyles of RICH and the Almost Famous: Chicago (Rich Tola – Host Reel)
Mindie music video of yoga poses filmed throughout the streets of Hollywood.