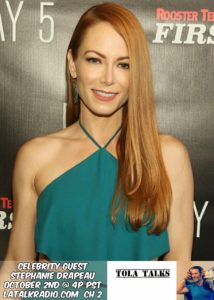 Kudos to re-launch of Tola Talks…we had a titillating show yesterday talking Hollywood film and TV roles with the lovely and talented, Stephanie Drapeau.
Plus, before I introduce Stephanie at 27:41 minutes, I kick-off the show with some Presidential advice on how to solve homelessness and get every United States resident off the streets. I also give out the Get Your Shit Together Award to none other than The Trump Administration.
We also observe a moment of silence for the victims and families of those who perished or were injured in Las Vegas in the worst mass shooting in our nation's history, as well as for the way-too-early passing of one the great rock-and-roll legends of all time, Tom Petty.
Thanks for listening, and have an awesome day! Peace – R