Another show under my belt and another reason to go back to the drawing board. Because practice makes perfect, or at the very least, gives you the opportunity to evolve whatever you're doing. If that's not working, then hit the gym and get your workout in…that always helps!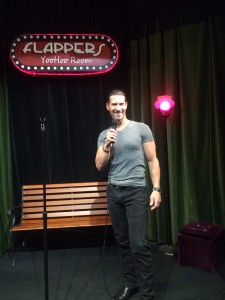 This past weekend  I performed again at Flappers Comedy Club in Burbank, CA and tried all new material that was funnier than my previous show – that's a good thing! Because with stand-up comedy it's all about delivering your jokes with as few words as possible and with as much attitude as possible, then refining them soon thereafter to get them to work. And for those jokes that are already working, i.e., everyone's laughing hysterically, then don't change a thing. So they say…whoever "they" is.
Either way the key is to keep improving your stand-up comedy act to one that flows seamlessly and effortlessly while you're simply having a conversation with the audience. Something I'm progressing with, a task much easier said then done.
Hope to see you at my next Flappers show on Father's Day, June 21st in the Main Room.  – R