What's funny, sexy and exhilarating, that makes you wanna get up and dance?
Pitch Perfect 2.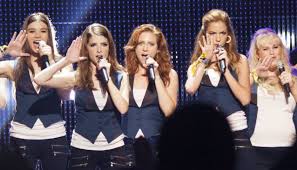 And if you're not into musicals or sequels, it really doesn't matter – go see this film. With an amazing cast led by Anna Kendrick, Rebel Wilson, Hailee Steinfeld, Brittany Snow, Katy Sagal, Elizabeth Banks and John Michael Higgins (who are great together), you'll be laughing and be-bopping for at least 2 hours.
You already know I'm a big Anna Kendrick fan, but I wasn't planning on seeing this film in the theaters until my soon-to-be 16 year-old niece said she loved it. And since I'm always intrigued when movie-goers of any age tell me they love a film…I went and loved it too. With so many great actors and so many great one-liners (no kidding, they're great), this cool hipster musical touches the soul and makes you really wanna get up in the aisles and dance!
Kudos to Elizabeth Banks on her directorial debut. Excellent job Elizabeth, plus you're charming, sexy, witty, ditzy and wonderful as the no-holds barred announcer, Gail. I liked Pitch Perfect 2 so much that if I were reviewing it on Tola Talks, I'd give it 2 thumbs (out of 3).
Like I said, go see this film and bring your teenagers, it's PG-13. And for some really good live comedy this week-end, come check-out my Stand-up show this Saturday, May 23rd from 7:30-9p in the YooHoo Room at Flappers Comedy Club in Burbank. CA. It's gonna be a blast!
P.S. Don't leave the movie theater until the credits have rolled or you'll miss Christina Aguilera and the gang from The Voice.