Who says you can't go home after pursuing your dreams for more than 15 years in America's most storied town, aka, Tinseltown. And why not add a little bit of new beginnings to the mix and make it an amazing homecoming for "a hometown boy born a rolling stone", just like Bon Jovi and Jennifer Nettles sing in their 2005 rendition of "Who Says You Can't Go Home."
The good news is I'm super excited to begin again in New York City with my new talent agent, Katherine and the Made Worldwide Agency (click HERE to visit my profile). No doubt the future is looking brighter than ever as my years of production experience and insights will serve me well. Just like my years of teaching Tola Yoga to thousands of students throughout the United States.
On a more personal note, today also marks the 15 year anniversary of my sobriety. For those of you who've read my memoir, Simply Between Millions: From Wall Street to Hollywood, you may recall this excerpt from Chapter 56 – No Mas, when I got drunk for the very last time: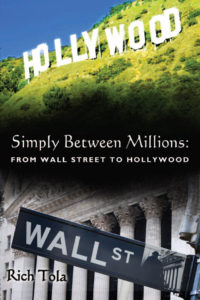 "I woke up a few hours later and felt like I just got run over by a Mack truck. No worries, because I no longer drank and I was free from that liquid noose around my neck I wore for the past 20 years. Although it would take another month before I was completely free from beer and alcohol cravings of any sort, I would never drink again. And I haven't."
The same holds true for today – I haven't, and I'd like to give a special shout-out to my hypnotherapist, Laura, who made it all possible. Simply the best and simplest treatment for me, with no program to follow other than Laura's weekly dose of hypnotherapy combined with my strong desire to succeed in Hollywood.
Like I've been saying since I began this journey from the lovely confines of my Upper East Side apartment, anything is possible if you set your sights and try. So keep rockin' your goals and dreams and perhaps your desire to quit drinking alcohol altogether. And never say "I can't", because you can if you really want to.
Have an awesome December everyone…and get your workout in! Peace – R