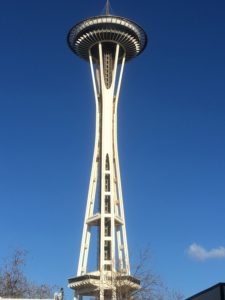 This past weekend I celebrated my 100th day of living in the Emerald City while teaching Tola Yoga to more than 700 students in 63 classes.
And just like Seattleites love their coffee strong and flavorful, there's no doubt they love my fitness style of Tola Yoga – which is also strong and flavorful. And if there's anything more plentiful than a corner Starbucks in this town, it has to be these two elements: hills and rain.
No doubt.
Coming from a fitness and yoga dude who spent 100 days living in San Francisco (in 2012) and walking up California Street once a day, you gotta believe me, it's true. Just try walking to the top of Queen Anne Avenue starting at Denny Way, or better yet, walk up James Street from Yesler Way to Broadway and you be the judge. And good luck if you're carrying a 20 pound gym bag full of books, water and yoga gear – like I always do. Well, at least I can say I'm in the best shape of my life. As for the never-ending rain, well, it's one of those things you get used to. I suppose 🙂
On that note, here are the 
five key highlights of my first 100 days in Seattle:
Explored more than two dozen neighborhoods and cultural attractions including the iconic 605-ft-tall Space Needle, the beautiful Olympic Sculpture Park and Northlake Marina overlooking downtown Seattle (see pics),
Established myself at six health clubs and yoga studios around town – currently teaching six weekly classes including one corporate client near Safeco Field (

Go Mariners

!),
Spent three days kicking-the-bricks in the very clean and cosmopolitan, Vancouver, BC,
Re-read five classic books including The Power of One, The Fountainhead, The World According to Garp, Tess of the D'Ubervilles and Great Expectations, and
Worked out 100 days plus took a plethora of yoga classes with some wonderful yoginis.
Hope your previous 100 days were as plentiful and exciting as mine were.
Have an amazing St. Patrick's Day everyone!
Peace – R
PS…if you haven't read a good book lately – and I'm talking about the good 'ole fashioned hard copy kind – then give one of mine a try.