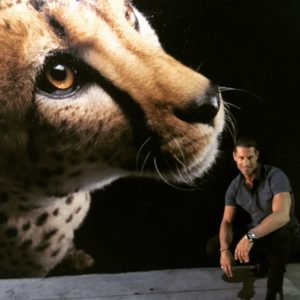 Whether you're a big kid, little kid or forever a kid at heart like me, you'll love it at the Dallas Zoo!
Since my childhood days plus our time filming Zoo Yoga in LA for my Yoga Survival Guide, I've always been a fan of zoos. So to all you thrill seekers and families looking for some good old fashion fun in Dallas, get your butts over there and you won't be disappointed.  From Hippos to Cheetahs to Elephants to Crocodiles, you'll find all types of animals that will surely impress.
And since I'll be leaving this blazing hot town for another great American city (hint: it's a mile high), I spent the past few days as a wide eyed tourist
visiting world class destinations like the Perot Museum of Nature and Science, The George W. Bush Presidential Library and Museum, Reunion Tower, the Dallas World Aquarium and Klyde Warren Park. Not to mention revisiting a few of my favorite spots including the Dallas Farmers Market and of course, the funky streets of Deep Ellum.
So until we meet again, I'll miss you Dallas. All the best to everyone who braved a super hot summer and to all those returning from Montana!
Get your workout in y'all…and I'll see you in Denver.
Peace – R